QUICK START READER SET UP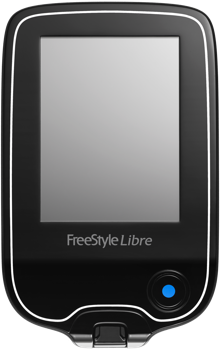 STEP 1 — START YOUR READER
Press the Home Button to turn on the reader. If prompted, use the touchscreen to select your preferred language for the reader. Touch OK to continue.
Use the pad of your finger. Do NOT use your fingernail or any other object on the screen.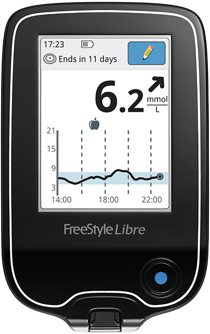 STEP 2 — UPDATE YOUR SETTINGS
Set the Current Date & Current Time using the arrows on the touchscreen. It is important to set the time and date correctly. These values affect the Reader data and settings.
Set your Target Glucose Range. Work with your healthcare professional to determine your Target Glucose Range. Your Target Glucose Range is displayed on glucose graphs on the Reader and used to calculate your Time In Target.
The reader now displays important information about glucose trend arrows and how to return to home screen from any other screen. Touch 'done' once you are done with the reader set-up and return to the home screen.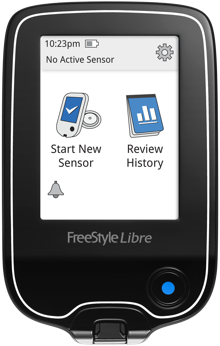 STEP 3 — START YOUR NEW SENSOR
Touch 'start new sensor', then hold the reader 4 cm (1.5 inches) of the sensor to scan and activate it.
Your sensor will be activated in 60 minutes and will be ready to check your glucose readings.
FreeStyle Libre reader also has a built in meter to check your blood glucose levels and blood ketone is compatible with FreeStyle Optium Blood Glucose or FreeStyle Optium b-Ketone.
START A NEW SENSOR WITH THE READER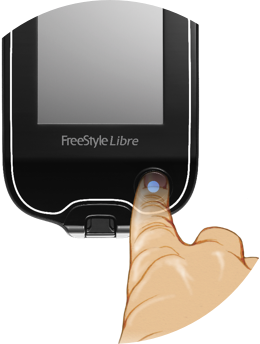 STEP 1
Press Home Button to turn on reader.
NOTE: If using reader for the first time, follow the prompts to set date, time, and target glucose range.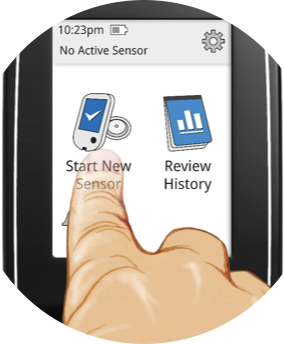 STEP 2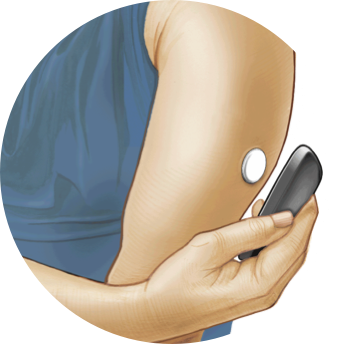 STEP 3
Hold reader within 4 cm (1.5 inches) of sensor to scan it. Sensor can be used to check your glucose after 1 hours.
HOW TO USE YOUR READER AND GET YOUR FIRST READING
Here is a video guide to help you with every step in setting up your reader.
Are FreeStyle Libre sensors and/or readers compatible across different countries and markets?
FreeStyle Libre sensors are programmed for sale in a specific market and are compatible with readers sold, compatible apps and software downloaded in that market:
FreeStyle Libre sensors in one market are not necessarily compatible with FreeStyle Libre readers or apps from other markets.
FreeStyle Libre users should plan on purchasing sufficient sensors from the same country they purchased their reader or downloaded their app from, to last the duration of their travel.
If planning a longer-term trip overseas, it is advisable to obtain a new reader or download a compatible app and software from that country, to be able to purchase and use the sensors available in that country.
Why does the system require a 1 hour warm up period?
Abbott Diabetes Care is committed to making its products safer for the user. After the insertion, the sensor and the body need to equilibrate (or settle). Therefore, we let the system equilibrate for 1 hour to make sure that it is providing accurate glucose readings.
What is a Trend Arrow? How does it work? And what does it tell me?
The FreeStyle Libre Flash Glucose Monitoring System offers a Trend Arrow with each glucose reading which tells you which way and how quickly glucose levels are changing. So, at any given time, you not only know what your glucose level is currently, but also which way it is heading. Depending on the direction of Trend Arrow, you can find out if your glucose levels are going up, down or staying steady, facilitating better decision-making.
CONNECT WITH YOUR HEALTHCARE PROFESSIONAL REMOTELY
While LibreView is the best way to connect with your healthcare professional, you can also directly connect with them using the FreeStyle LibreLink app via text or e-mail.
In addition, remember that by using the LibreLinkUp app, you can invite your family/caregiver or anyone you like to also access your glucose data remotely, anytime. Visit LibreLinkUp App to see how to do this.