Easy steps to use Freestyle Libre
1
choose the way to scan sensor
USING YOUR SMARTPHONE
Download the FreeStyle LibreLink app1 free of charge from the App Store or Google Play and start monitoring your glucose discreetly and on the go.
Shows up to 8 hours of glucose history
Stores glucose readings for up to 90 days
Estimated A1c reports and option to share with healthcare professionals
USING A READER
The FreeStyle Libre reader is a stand-alone device that works like the phone app, but with a port for testing blood glucose and blood ketone levels. If you are an eligible NDSS registrant, you may be eligible for complimentary reader.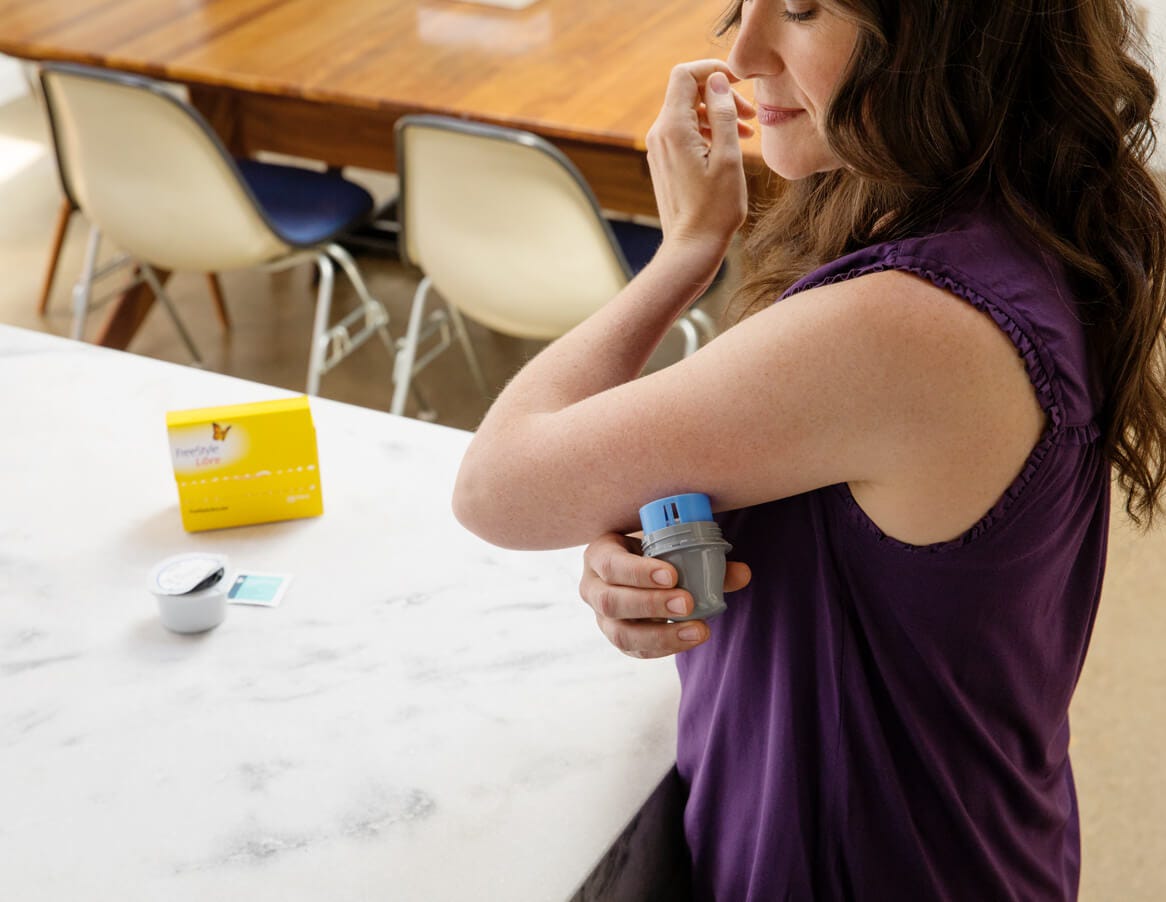 Easy steps to set up your smartphone app
Select an area of skin on the back of your upper arm that generally stays flat during normal daily activities (no bending or folding).
Avoid areas with moles, scarring or tattoos.
Clean the application site with soap and water and then use both the alcohol wipes that come with your sensor to clean the site again and allow your arm to air dry.
3
set up your app or the reader
Easy steps to set up your smartphone app
Once you've downloaded and launched the FreeStyle LibreLink app. Tap "Get started" now.
Make sure you confirm the country and create an account2.
Once you have applied your sensor, you're ready to scan.
Tap one of the scan buttons, hold your phone near the sensor and you'll hear 2 tones (or feel 2 vibrations). Wait 60 minutes. Scan again and have a look: your first scan is complete!
Press the blue 'On' button and set the date and time. You can then enter your target glucose range.
To activate the sensor and link it to your reader, hold the reader within 4cm of your sensor.
You'll hear a beep (or feel a vibration). Wait 60 minutes. Scan again and you'll see your first reading.
You can also use the reader to test your blood glucose and blood ketones.
The FreeStyle LibreLink app is only compatible with certain mobile devices and operating systems. Please check our compatibility guide for more information about device compatibility before using the app. A finger prick test using a blood glucose meter is required during times of rapidly changing glucose levels when interstitial fluid glucose levels may not accurately reflect blood glucose levels or if hypoglycaemia or impending hypoglycaemia is reported by the FreeStyle LibreLink app or when symptoms do not match the FreeStyle LibreLink app readings.
Cellular connection required, data charges may apply. Apple and the Apple logo are trademarks of Apple Inc., registered in the U.S. and other countries. App Store is a service mark of Apple Inc., registered in the U.S. and other countries. Google Play and the Google Play logo are trademarks of Google LLC.
get the most out of your freestyle libre
Subscribe for the complimentary FreeStyle LibreCare program and receive ongoing support and updates to help you use the FreeStyle Libre system. You may unsubscribe at any time.
Sign up for Freestyle LibreCare
Having challenges with your sensor or require some assistance?
Our FreeStyle Libre Customer Care team is ready to help you.